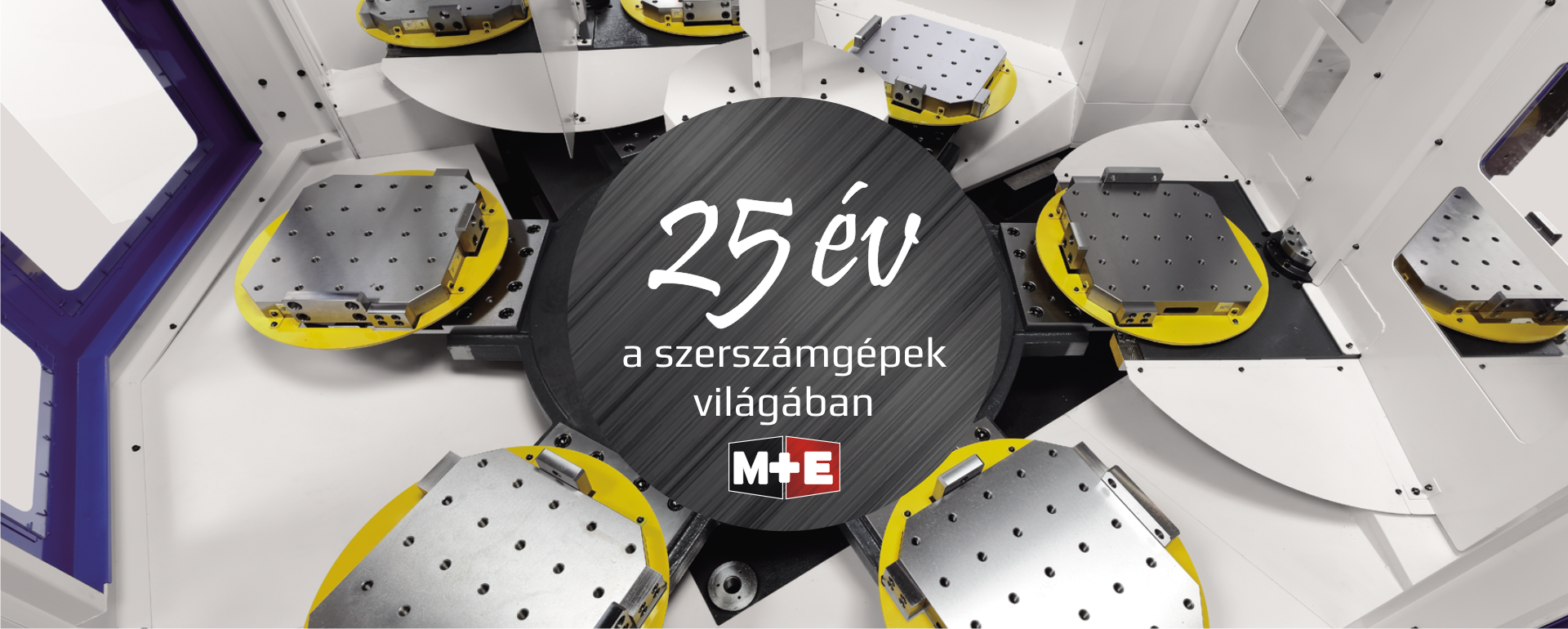 25 years in the world of machine-tools
Once upon a time... we can began this strory like this, since this story is like a "fairytale".
Namely there were 4 men, who were in the right place at the right time to start their journey and to found a company. 
Actually they met some difficulties during their "journey": market-challanges, economic crisis, CEO-changing, product-line modification etc., etc. But inspite of all of these they could reach their aim: after 25 years the M+E is still a stable and determinative company of machine-tool market.
The milestones: 
1997.     Foundation of M+E Szerszámgép Kereskdelmi Ltd.
                Office: 3-room flat in Csepel
                Agreement with Colchester-Harrisonnal
                First participate on Mach-Tech exhibition (20 m2 stand, 2 machines)
                Quick success: the first year provided profit (6 machines were sold, installations, service)
1998.     Moving to a "dining-room" – new office with a showroom
                Okuma project: installations, maintenance-service
                Distributor agreement with Okamoto
2000.     Distributor agreement with Brother
               10 employee
2004.     Agreement with Filtermist about distributng of oil mist collectors
2005.    Moving to a new site in Szigetszentmiklós: 400 sqm office and 700 sqm show-room, hall
2006.     According to the customers' claim the variety of product-portflio was expanded with lower price-leveled products
                Hartford, SuperTec, Poly Gim
                17 employee
2008.      Global economic crisis: although the company was affected as well, none of the employee was discharged
2012.     Portfolio expansion: new brand the Brazilian ROMI
               27 employee
2014.     Portfolio expansion: new brands: the lathes of the Japanese Nakamura-Tome and the EDMs of Mitsubishi Electric
2015:     Portfolio expansion: the machine-tools of the Japanese Toyoda
2017.     Triple A Bisnode certificate
               30 employee
2018.     New brand: FUJI
                Tripla A Bisnode bronze certificate
2019.     Installation of a 7 meter machine, the largest Hartford double coloumn machine in Hungary, but also in Europe
                Tripla A Bisnode silver certificate
2020-     COVID19 virus, the company is still working with the total headcount (31 employee)
                Although the revenue has relapsed a little bit, the company is still profitable
                Tripla A Bisnode silver certificate
2021.     New brand: KIWA (machining centers)
                Dun&Bradstreet Tripla A gold certificate
                The revenue is rising
                31 employee