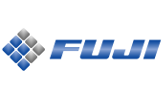 Contributing to the high quality manufacturing all over the industry
In the beginning, FUJI was a pioneer in developing, producing and selling single function hydraulic equipment.
For more than half a century FUJI machines have been playing basic role supporting the industry including automotive production in Japan and all over the world.
CNC lathes
A wide selection of CNC lathes supports the comprehensive range of demands.
The wide selection of FUJI machines is characterized by high precision and high-speed production. The strict demands of the customers help in configuring the machines according to the accumulated experience through many years.
System solutions
Suggestions for optimal product families help the customers to perfect their productivity.
In order to provide high precision, FUJI designs special clamping devices, which fit to the workpieces.
They also make suggestions for an automated product family taking into consideration not only the machines, but also different robots and workpiece conveyor units used in the production line.
This ensures the quickest, most precise and cost-effective solutions for the customers.
Modular structure (DLFn: "Dolfin")
In multi-functional robot machines with modular structure, every unit is turning at the same time, and the feeding system inside the housing of the machine conveys the workpieces between the different modules. Due to robotic automation, FUJI machines provide productive and precise solution to the manufacturing tasks, and the 50-year experience guarantees outstanding quality.